Focus: a new Interactive Visitor Space was inaugurated at ELI ALPS
ELI ALPS celebrated the opening of the Focus – Interactive Visitor Space on 13 November 2021 in Szeged, Hungary. The new interactive space was opened to the public by Nobel Prize-winning physicist and Professor of the École Polytechnique, Prof. Gérard Mourou, and Prof. Gábor Szabó, Managing Director of ELI ALPS were special guests at the event.
One of the most important missions of the ELI ALPS research institute is to popularise science and to support Hungarian engineering and science training. The Focus – Interactive Visitor Space provides a great opportunity for interested young people who aim to deepen their knowledge in the field of physics – all in an accessible and fun way.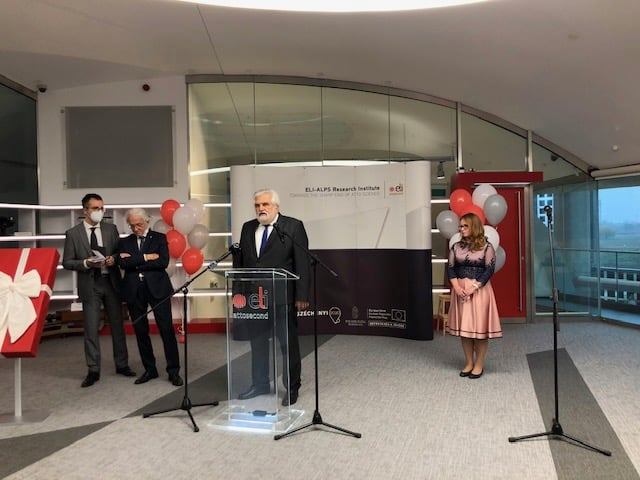 Walking through the various stations of the visitor space, those interested can get acquainted with the spectacular laser harp, the polar ice cream, the rotating water lily, and the laser sound transmitter, each present a physical phenomenon related to the research performed at the research institute. The history and activities of the ELI ALPS and the research equipment operating there can be reviewed in a digital book. The generation and progress of laser pulses is also demonstrated: visitors can follow the path of the photons in the ELI ALPS PW laser system through 3D animation, and also take a look at the inside of a real laser device.
Various models introduce the operation of the deformable mirror used in primary and secondary sources and the safety system of the laboratories is also explained. The old optical experimental instruments placed on the shelves are not only visually impressive, but also demonstrate the rapid development of the field of laser physics. The exhibition also includes equipment used for the first laser eye surgeries. It is possible to find out what science and research means for ELI ALPS researchers, and several fun activities, such as laser chess, memory games and computer animations are available.
The Visitor Centre, Focus, will be accessible to registered groups, with the exhibited devices offer lessons for various physics-related classes – summer schools, professional classes, student camps. The general public will have the opportunity to visit Focus during open door days, such as the Day of Light in May and the Researchers' Night in September.
Photo credit: eli-alps.hu