The IMPULSE Project
In the IMPULSE Project, 14 partners from 9 different countries work together in one project to identify and solve key bottlenecks to the reliable and cost-efficient operation of petawatt laser systems.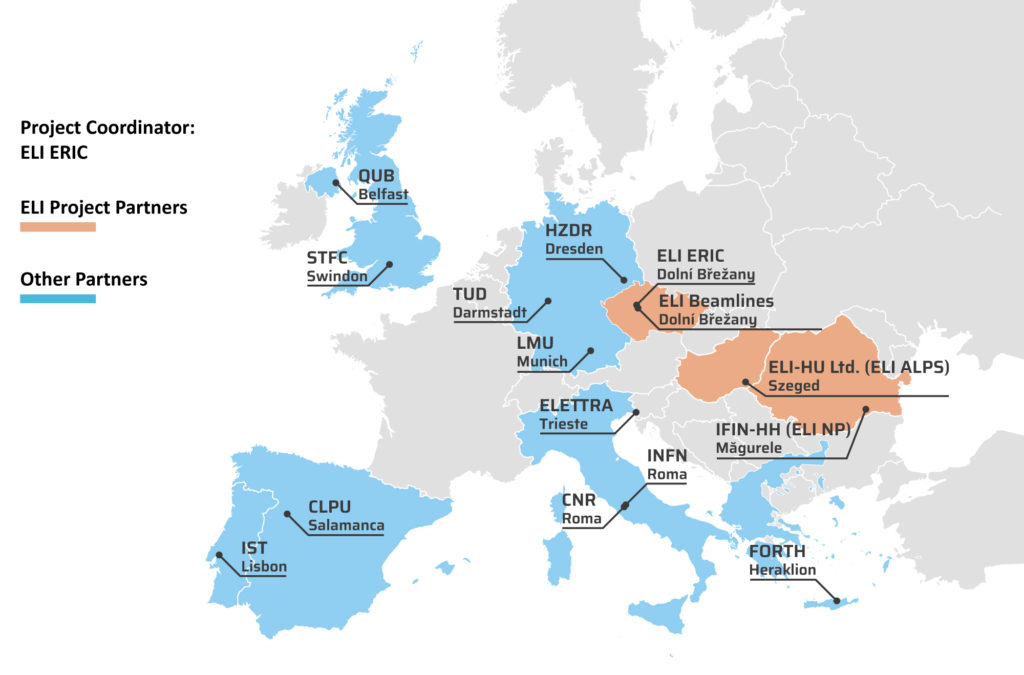 The IMPULSE project focuses on achieving a quick and effective transition of the Extreme Light Infrastructure from construction into sustainable, unified operations. This is an unprecedented effort, since ELI consists of three full facilities with complementary configurations, built in three countries and employing over 600 people. By consolidating and exploiting ELI facilities together, the IMPULSE project maximises the effectiveness of the 850 Million Euro investment from the European Regional Development Funds that enabled the establishment of this ESFRI Landmark.
IMPULSE addresses the key scientific, technical, organisational, and management requirements of this transition, building user communities and expanding the ELI member consortium. Though IMPULSE focuses primarily on ELI, its results will impact all European high-power laser facilities.
For the project, three interwoven ambitions have been formulated:
Develop a joint management culture and the capabilities of the ELI facilities with an efficient use of resources.
Identify technical synergies at Europe's leading high-power, short-pulse laser centres – to lower operations costs and increase availability for users.
Scientifically optimise the performance and exploit the potential of the ELI systems early in operations to generate interest in ELI and laser science.
---
Project factsheet
Project acronym: IMPULSE
Project full name: Integrated Management and reliable oPerations for User-based Laser Scientific Excellence
Grant Agreement number: 871161
Beginning of project: November 2020
End of project: May 2024
Total budget: ~ 20,000,000 EUR